St Ives Spring Holiday Highlights
The plan - a St Ives holiday surprise
This was was going to be a surprise large group family holiday – so I was ready for an organisational challenge! It was also a 50th birthday treat (with a 16 friend jump-out surprise twist), so I'd had decades to prepare.
The first question was where do you take 20 people for a multi-generation 50th? I chose a St Ives holiday, as with its tiny cobbled white streets, crystal-watered harbour and stony fishermen's cottages surrounded by golden beaches, it was our favourite little town in the land and an annual Spring destination.
And as having 20 people drift around the tiny shops would not be a workable plan for the week I'd need some kind of itinerary! Did some boat trip/alpaca walking research and we were good to go.
St Ives holiday accommodation and travel
How do you accommodate 20 people on a St Ives holiday?
A: you split them up
We were struggling to find houses big enough for 20. The solution was for each family to (covertly) book their own tiny cottages, campsites and luxury pads dotted around the town for multi-centred party opportunities, and reduced scope for fighting over bedroom allocation or cooking. 
Olde Inn: For my family unit, I had my eye on The Sloop, a whitewashed and heavy timbered old Smugglers' Inn, with benches right on the harbour. Sadly for us they do not do family rooms, and it would have broken our bank to book 2 rooms for a week. Great if you are going as a pair though! 
Fisherman's cottage: Instead, I'd booked through aspects.com a pretty fisherman's cottage right next to Porthmeor Beach. We'd spotted it on a previous trip and cannily taken a photo of the booking details. Going through their property catalogue leaves you dreaming of a life by the sea – but we stuck to our dream cottage.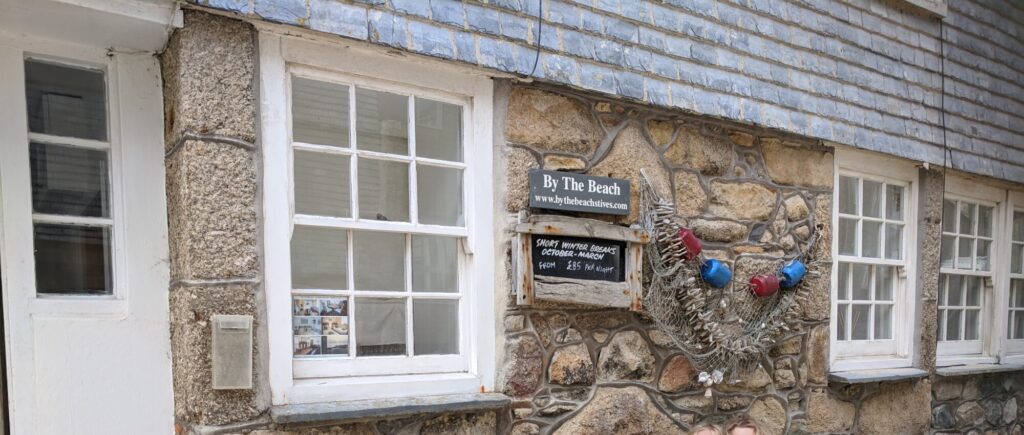 St Ives holiday top tip 1 – holiday homes in St Ives are TINY. Book several for a large group and take turns evening-hosting.
By Train: Having been snarled up in the tiny toy town alleyways of St Ives before, it was decided to save the birthday driver's sanity (and car bumpers) and opt for the luxury of train travel this time.
Train tickets: 3 months before departure I'd received the Trainline Ticket alert  email (see my travel tips page for more details) tipping me the wink that the limited edition cheapest fare you will ever see for this journey had been released. With a family railcard, and a £25 voucher from another late train, it cost us a round £7 all in, I kid you not. One way mind.
In order to utilize the voucher – which inconveniently is not redeemable online, I'd had to bike it the mile to the station before the only 4 tickets issued at this price were snapped up by someone without a voucher, ordering from the luxury of their own phone/bed. First school girl  error in the excitement was to forget to reserve seats. Oops. Be fine.
Had to do exactly the same thing a week later when, by way of a small 6am ting, I was alerted to the release of cheapy McCheap face return tickets. Having learned my lesson – I booked seats for this one. Ha. Though it didn't cross my mind to rectify earlier error and add seats to outwards trip.
Park and ride: Other, less driving averse, members of the party had hired parking spaces for the week on the outskirts of town to avoid the snarling and scraping.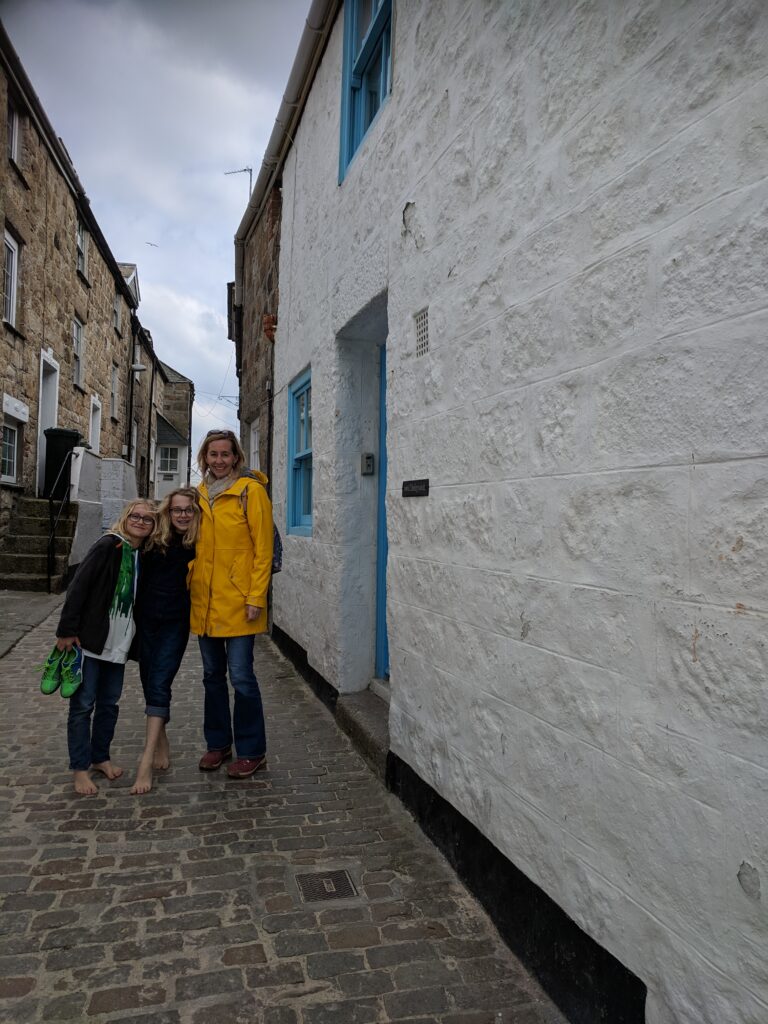 St Ives holiday top tip 2 – driving through St Ives is a nightmare. A train all the way or park and ride is the answer.
The day drew nearer, and we collectively  had not let the '16 pals coming too surprise' cat out of the bag, by managing not to say "see you in St Ives," every time we met up prior to the event. Hee, hee. 
Day 1 - Outward bound - St Ives holiday by train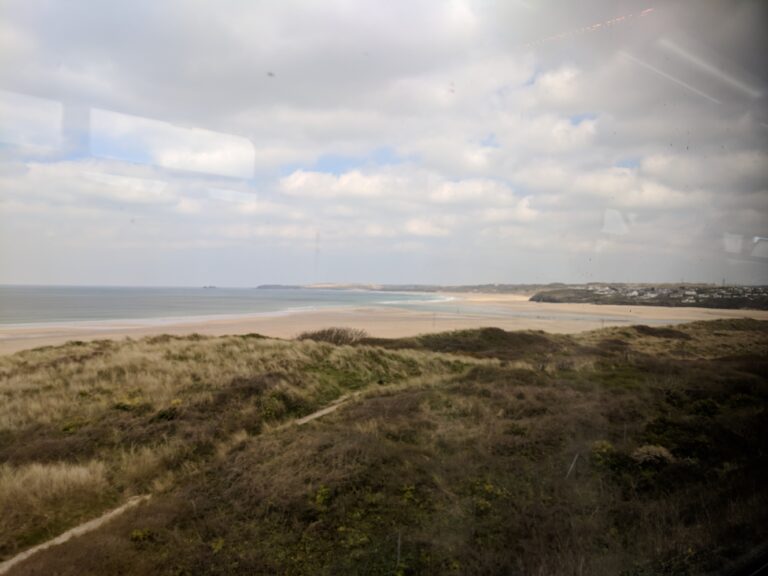 St Ives Holiday Activity 1 - take a scenic coastal train
The taxi was a bit late but everyone was still behaving nicely. Cracks appeared in veneers when it turned out there are actually 2 types of train journey from Bristol to St Ives, the scenic and the more lengthy (exceptionally scenic?) "cross country" one, by way of at least 27 stops. Who knew? Not me, clearly.
We discovered at the station that the cheapest ticket is also the "most scenic" (yay?). It was also time to 'fess up the seat situation. A not-too-impressed husband was given carte blanche to go for any upgrade he desired at the station kiosk (birthday privilege) to mend all of the above – somewhat negating the efforts to secure the £7 tickets. Still – never mind – it's ya birthday.
He was informed at the desk that as train to St Ives only runs about 4 times a day, waiting for the not-so-scenic quicker train would mean arriving later than taking the one we were booked on. A second blow was learning that seats are not reservable on the cheapy train, as is more like a local bus (so I couldn't have booked them if I'd tried anyway – phew?). The upshot was that we were stuck with this 7 and a half hour train journey and we'd have to fight for any seats at all (let alone adjacent ones). There would be 3 changes and so we would have the seat fight 3 times. And the train might not have any tables. Be fine.
Train arrived, tables existed, 4 seats secured and although it did stop its 27 times, it travelled right along the seafront, trundling past the mighty Red Rock beach at Dawlish. Everyone was a little bit happier and it was agreed we should always get the train in future (but maybe not this one).
St Ives holiday top tip 3 – do not book the slow train to St Ives (the fast one is slow enough).
Fortunately, during the previous week I had spotted in the booking confirmation that keys for the cottage were to be collected from Hayle, 8 miles out of town. It would have been something of a marriage breaking downer arriving car-free on the platform in St Ives after a 7 hour train journey to find the keys were 8 miles away.
St Ives holiday top tip 4 – If arriving by train arrange to pick up your holiday home keys from the harbour office
But no, I had averted such a disaster with a lucky glance at the right bit of the small print and the day was saved as I had arranged to pick them up from the harbour office.  Alighting from the train, we were blown away by the views over Porthminster  Beach from the station. Properly on holiday now!
Pretending we were a quarter of a century younger than we are, we donned the same backpacks we had taken travelling (and wheeled the additional luggage now required for a family of 4) through the higgledy-pidggley town, past the pretty-as-a-picture harbour to the Aspects office – no biggie. Still got it.
St Ives Holiday Activity 2 - stroll around the harbour
The quaint cobbled streets around the turquoise waters of the harbour, flanked by whitewashed stone cottages and artsy shops make for idyllic strolling territory (better without bags).
Lobster pots on piers and bobbing brightly coloured fishing boats turn the scene into a living picture postcard.
St Ives holiday top tip 5 –  Beware: The seagulls are evil and will steal your chips/sandwich, even if you are flanked by defensive adults who think they are ready for it this time.
St Ives Holiday Activity 3 - stay in a Fisherman's Cottage
We found our fisherman's cottage where we had left it on our previous visit, and looking fabulous with its huge wooden door and slate frontage strung with sea nick-nacks.
Sea views? 
To date we had never managed to stay in any accommodation with a sea view. Bit of a running joke on the "room with a view" front We usually just get carparks. We'd once paid for a mountain view in Morocco but the mountain range had spent the week hiding in the mist. (Thought we'd been had, until the last day when they appeared).
But this time, we were right by the beach and living the dream. Nearly. We'd kind of assumed that the cottage backed onto the sea. It was so close. There was sand on the doorstep and everything! But no, foiled again by a pesky car park and apartment block lodged between our back wall and the beach. Darn it. Despite the sea hiding through some sort of tunnel and obscured by our neighbour's semi-transparent balcony, I decided to count it as an official sea view anyway. So, tick.
St Ives holiday top tip 6 – If you want a sea view, pick a cottage facing the beach not behind it.
St Ives Holiday Activity 4 - watch a sunset over the sea
Sea view niggles disappeared over the horizon when we popped 5 seconds round the corner from the front door to see the real thing. Here was the totally fabulous Porthmeor Beach.  This might be my favourite of the St Ives beaches, with a coastal path to Zennor at one end and headland walk at the other, complete with its own light house and seal spotting opportunities. 
In between, lies a large stretch of white sand, Caribbean waters and beach cafes where you can sit and watch a magical sunset over the sparkling sea.
St Ives holiday top tip 7 – As soon as you have your holiday dates, book a table at the fabulous glass-fronted Porthmeor beach cafe for sunset views to take your breath away. We didn't book ahead so missed out – but are totally doing this next time.
St Ives Holiday Activity 5 - go seal spotting on a headland walk
After shedding the bags, while the rest of the family collapsed in the cottage, I looped the headland 3 times it was so gorgeous – and spotted my first seal.
St Ives Holiday Activity 6 - check out the Porthgwidden beach huts
Lying down recovery time completed, the whole family were now ready to check out little Porthgwidden beach on the other side of the headland (a good 5 minutes' walk away) with its funky beach huts and café where more seagulls nick your chips. 
St Ives Holiday Activity 7 - have a drink at the smugglers' Sloop Inn
The Sloop Inn is the best and most iconic pub in town: benches on the harbour, half timbered frontage, smuggling history. All tick. Living Cornish history.
Having failed to book a room, we were definitely having a drink here. Also, I had chosen it as the surprise moment jumping-out place for the next night so needed to do a recce.
I'd tried to book a table for 20 but no bookings were possible, so I was surreptitiously checking out the bar capacity. It was fairly full. There weren't 20 spare seats that was for sure. Bit worried. Be fine.
Not everyone would be arriving until this evening, so the plan was for our family to select one spot to hang out during the day, to avoid bumping into other gang members as each group arrived in town and giving the game away. Cover stories were invented in case of unexpected sightings. Any movements from agreed spots were to be texted through secretly in the style of the Truman show, so the other characters could move out of range. Like being spies.
St Ives Holiday Activity 8 - breakfast at a bakery on the sand
Very selfishly, I selected our doorstep Pothmeor beach as our zone. and breakfasted at the lovely West Beach bakery at the end of the bay, with rustic benches, blankets, heaters and music from yesteryear.
St Ives Holiday Activity 9 - take a surf lesson
The 2 hardier family members opted for an April surf lesson for £38 each, with the remainers hiding behind a rock with hot drinks. The sun may have been out but it was hat and scarf weather.
The surfers loved it. Wetsuits did their jobs in preventing hypothermia and waves were caught. Not very big ones – so good for beginners. Sapphire waters and white sand make for a pretty spectacular back drop.
Having successfully hidden for the day, it was time for the big "surprise" moment at the Sloop. But birthday Husband was keen to stay in and watch telly, or maybe try somewhere different to the Sloop tonight? Er, no. Had to get decisively but not suspiciously bossy and was reluctantly accompanied by family to the designated meeting point. My phone was dinging madly, presumably saying no room at the Inn, but there was no plan B and no looking at the phone without being seen – so I struck out, message–blind.
The Sloop was packed, but tables had been secured across the room. Lots of cheering broke out when birthday boy entered and there was a tear in more than one grown ups' eye. Lots of "Did you really not know?"s and then rum, beers, and party for 20 in a cottage for 4. Hooray!
Day 3 - Rainy day in paradise
St Ives Holiday Activity 10 - spend a rainy afternoon in the pub
Now we could hang out all together. Plans had been made, with scheduling gaps to be filled with mainly beach-based lounging.
But, as is the way in the Easter holidays, inevitably it rained and the plans and day unfolded at the harbour front Rum and Crab Shack with happy hour pirate-y rum-based cocktails while slightly-too-old–for- it children were sent to watch Dumbo at the town cinema. St Ives beaches are still pretty spectacular in the rain, especially when viewed from inside a rum shack.
After the cinema the children were able to join us in the bar for a few games of cards – so happy rainy days all round.
St Ives holiday top tip 8 – Fun for all the family (ies) is available with a pack of cards at the Rumshack on a rainy afternoon
St Ives Holiday Activity 11 - take a seal spotting boat ride
A super speedy seal trip boat ride on the Dolly P with www.stivesboats.co.uk was booked for today.  We were bound for seal island and were excited to be allowed to walk around on the wobbly deck and stick our hands out into the substantial side spray – or just stand at the back and get totally drenched. It felt like we were in a David Attenborough documentary, bobbing around in the shimmering white froth as seals popped up to say hello.
St Ives holiday top tip 9 – This is a speed boat seal ride- you will probably get wet so take a waterproof.
St Ives Holiday Activity 12 - drink bubbles at a beach cafe
The day ended with a different type of bubbles, on the wooden decking which extends over the sand at the Porthminster café, a 2 minute walk from the harbour. The holiday had a distinct Caribbean vibe at this point.
St Ives Holiday Activity 13 - walk an alpaca
An alpaca trek with Carthveanalpacas.com was today's untypically Cornish scheduled activity, about a 30 minute drive from St Ives. Adults were required to accompany children under 12 on the trek, which I had thought seemed a bit harsh on the alpaca, but turns out "trek" does not mean "ride" so alpacas' backs were safe.
All the children got their own pompom headed alpaca or hippogriff-like llama to parade around the Cornish hills. The farm was run, unexpectedly, by an international llama expert. Apparently llamas will only allow certain people to stroke them. If you are their designated leader for the day then this is sufficient.  Being an accompanying adult, as my child's llama made abundantly clear to me, is not.
They are a proud species, and hate it, for instance, if anyone is taller than them. As they pass a small hillock on the walk, they must each have their own opportunity to stand proudly upon it, and if one llama takes pride of place for too long, they are bumped right off it by the next in line.
An errant alpaca, who had been upsetting the smaller pompoms, had been moved to the big boy llama field to be taught a bit of a lesson. They would be able to handle him. As we cleared the hill, we saw that "handling" involved having a huge spitty scrap, sending the gangsta alpaca to Coventry at the other end of the field and giving him daggers.
For our £15, we were also witness to hairy tusked boars begging for food  (why did I not take a picture of this?) and helped to feed an alpaca army. 
St Ives holiday top tip 10 – Llamas are full of personality. Chose an alpaca for a more gentle companion.
St Ives holiday top tip 11 – there is always at least one first aid incident on a family holiday. Bring plasters and enlist the help of a Lifeguard for the bigger incidents.
No family holiday is complete without a first aid incident. And so it came to pass in a wrestling/head collision moment amongst our mini-me offspring, who seemed to have become beach-feral as their adults hit the beach bar. A lifeguard was involved, a diagnosis of "probably not broken" nose made but also a precautionary suggestion of a trip to A and E. (We declined on this occasion. He lived. All good).
Day 6 - Theatre and beach
St Ives Holiday Activity 14 - watch a show at the Minack Theatre
If you have never been to the Minack Theatre, you might want to make a small addition to the bucket to visit this Agatha Christie/Roman Colosseum inspired cliff top open-air theatre with sea views to die for.
Tickets for children afternoon matinees are often under £5, so absolute bargain. They do Shakespear for kids performances too, so educational to boot.
St Ives holiday top tip 12 – Booking ahead as soon as you have your holidays dates guarantees your (stone) seats, but you are playing fast and loose with the English weather lottery.
St Ives holiday top tip 13 – The Minack's cliff top position can make it a bit nippy. It's either sun or wind burn. Or both. No middle ground – bring blankets and sun cream to cover all bases. And a cushion!
Before the show, a bit of backwards running on the beach from child 2 led to a bonus second first aid incident, which we initially chose to ignore. The arm hurt, but it wasn't going to get worse watching a show, so the full group theatre trip plan was still a go.
Ours was a windy day – so windy, I was totally prepared to abandon the show at the interval and spend the second half defrosting in the café. The children agreed. Disappointed to learn that the cafe closes during the performance, we were turfed back out to turf-covered cliff edge seats.
I used a 13 year old child as a wind break on my lap, which helped. Didn't see much of the rest of the show through his hair, but looking out for seals on the rocks below kept me occupied.
St Ives Holiday Activity 15 - body board at Porthcurno beach
It would be criminal to go the Minack theatre, without taking a trip down to Porthcurno beach next door. My favourite beach ever. Just don't use the cliff stairs to/from the theatre to get there. Deadly.
Post-theatre and beach, child 2 was still tearful if his arm was bumped and was holding it in a funny way. Time to be dropped off at Penzance A and E (still carless). Waited the usual couple of hours for x-ray to confirm not broken. Phew. Run like demons to catch last train back to St Ives at 10pm just in time for last night party.
From nowhere – heat arrives. Its 22 degrees. It was sleeting on Monday. But we've checked out and are sitting on a week's worth of luggage on the beach until the train leaves at lunchtime. Doubly saddening is that not everyone is leaving today – the party in the sun will go on without us, as we leave for our all-day train ride. Still – it has been a blast (and not just of wind and rain).
Time for a final luggage drag through the now very sizeable Good Friday crowd in town, past Christ the Redeemer and his many followers, in fact. 
We pull slowly and sadly out of station and arrive 10 minutes later at St Erth, for our first change of the day.  Lug all bags off the train only to learn that the next one is a bit broken and may be cancelled. It's a Bank Holiday and the chances of another one coming soon are significantly lower than on a normal day.  And we had seats on this one! Agh.
Our connection rolls in an hour later than scheduled. We are happy to see it but the delay is just long enough for the prospect of our subsequent connections (with seats) to disappear over the horizon. Spend whole journey listening to announcements advising which trains are, and then it turns out, are not being held for us and where we should, then shouldn't, change.
Many hours later, in scorchio sun, we arrive, just shy of the delay required for full refund (of £7), and just as everyone else is off to the bar in magical St Ives.
The next day the hospital called to say the arm is broken after all, and asked if we could we go back to A and E for another x-ray?
St Ives holiday - Lessons learned
Book seats (on trains and in restaurants).
Book the fast train. Or maybe just take a car and hire a car parking space as you will probably need it to visit alpacas, the theatre or to go to A and E at some point.
Go for a balcony to secure a sea view. Some apartments on Porthmeor had one on each side to get sun in morning and evening. Clever.
If you have no need of an outside area with your view, and about £1500 to spare, the totally gorgeous Saltings with its huge windows straight on to Porthmeor beach is the one to go for.
Avoid August. As we can only ever afford to go at Easter, or May half term at a push, we have not experienced this, but there are rumours that the crowds are shoulder to shoulder in the summer holidays. You can wait for 2 hours on the park and ride platform at Levant Saltings to get on one of the trains into town which run every 30 minutes.
Llamas have more in the way of personality than you'd think.
I can think of no other town that can beat St Ives beaches with their blue seas, yellow sand, bobbing boats and seals.
St Ives, with your spectacular beaches, cutesy cottages, bobbing boats and seals, haughty llamas and alpaca army, you rock like the sugar version you sell in your shops.
Pin this St Ives holiday post:
Day 1 - Outward bound - St Ives holiday by train