Best things to do in your Dartmoor with kids holidays
The Dartmoor with kids plan
Top Tip 1 – Pick Dartmoor for proximity to fairs, beaches, ponies.
We were in need of a staycation idea. We were not really allowed a big holiday this year as  we were saving money for going large next year  for various marker decades (am trying not to feel old about this).
The kids wanted funfairs, animals and woods. Woodlands Theme Park in Devon, with its logflumes in the forest and wandering peacocks ticked all the boxes. It is also handily close to lots of incredible beaches and the wilds of Dartmoor. Great.
We read that the centre of the Moor is a good spot for seeing wild Dartmoor ponies and, being in the middle of nowhere, the dark skies provide perfect conditions for viewing the Milky Way.
We could camp at the theme park itself, spend one night on the moor then head over to Okehampton YHA, which at the top o'moor, is a high ropes kind of youth activity centre.
We had booked for July so it might not rain the whole time (wet weather options looked limited).
Dartmoor with kids day 1. Woodlands Theme Park
Top Tip 2 – Woodlands theme park is a forest gem with log flumes, mini zoo and camping.
First stop on our Dartmoor with kids holiday was – a woodland themed funfair and adventure playground in Dartmoor National Park with all the death slides and log flumes you could hope for. Throw in a mini-farm/zoo with yellow Burmese pythons and free range peacocks for good measure, and you have Woodlands, a firm family favourite.
Having paid the £60 family entry in the past, we had learned the trick, which is to camp (for about £60pn) and get into the park for free. Only down side is you do have to sleep (or not) in a tent. Had invested in a princess and the pea style 2 foot high airbed in an attempt to crack this one. Unfortunately, once inflated, it was essentially a double bed and as such was way too large to be wrestled into the sleeping area. It spent its holiday in the draughty communal area slowly deflating. You can put a price on sleep. There is a Best Western opposite the park entrance if desperate.
Top Tip 3 – Free theme park entry when you camp.
Having done the best we could (a fairly low bar) pitching up, a BBQ was essential for both food and heat. Water fights (although these are not allowed) kept the troops entertained until the rides opened in the morning. As a bonus, campers have the use of the park with its woodland walks and adventure playgrounds in the evening after the day trippers have gone (to real beds).
Be warned the 4 checkpoint check in system (entrance car park, reception, second internal car park, meet and greet field point) is glacially slow but clearly provides many employment opportunities in the local area.
Top Tip 4 – Most cafes on site are cash only and the cash point on site costs £1.99. Cash up before you come!
Dartmoor with kids day 2 - Tubes, trays and Totnes
Top Tip 5 – The avalanche sit on tray is a white knuckle ride
We'd only missed out on one night's sleep at this point so everyone was still ready for action. There is a shiny silver toboggan/tray you can ride around on a thin metal track through the hills, and at the Avalanche you can sit on another tray and hurtle about 30 feet near vertically downwards. Tried out all 3 tube water rides, which are ace, before toddling off to the very pretty market town of Totnes for an Devon holidays afternoon shop.
A sign on the wall told us that Elizabethan dress is de rigueur at the market every Tuesday. It was Saturday so this may or may not be true, but got to be worth a look if you happen to be there. Another Totnes fact – it has the most listed buildings per head in the country. Made new plan to retire there and live out my days in a chocolate box house near moors and beaches.
Dartmoor with kids (near enough) day 3 - Aunt Beryl at Blackpool Sands
Top Tip 6 – Don't miss the crystal waters of Blackpool sands
This was going to be "the sunny day" of our Devon holidays (you only get one). A quick read through the beach options at reception and online revealed that Blackpool Sands was not only the closest but had also been the setting for a Bacardi Advert. Couldn't quite believe this bit, but had to be worth a look.
It's £8 cash to park (and after Woodlands we were cash-free). Had to search every car and bag crevice and run off to cadge coinage from more fore-thinking pals, whist a large queue formed impatiently behind us. Once parking panic was over, however all was good. The beach came with a cool wooden-decked Tropicana feel beach bar, yellow (admittedly quite coarse) sand, fringed with green woodland and fronted with clear bright greeny blue water. Settled in for they day, ill-advisedly scaled a 20 foot rock bare foot and generally pretended to be Aunty Beryl.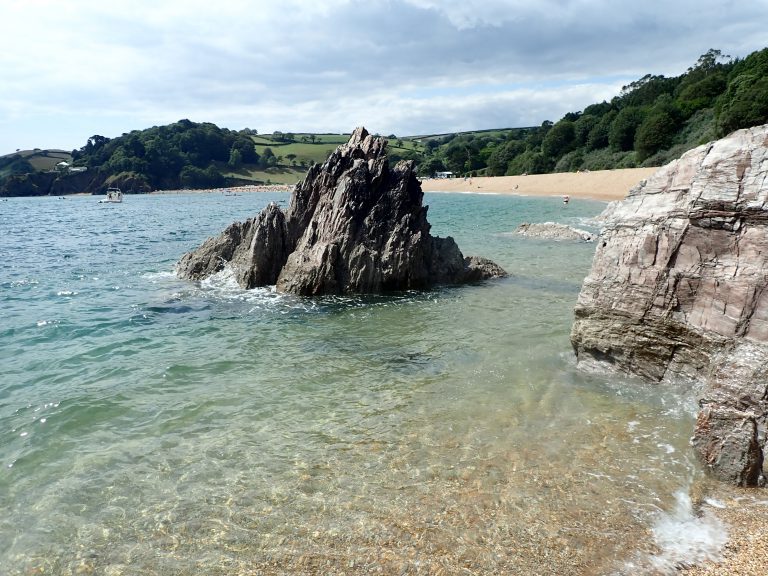 Dartmoor with kids next stop - Dartmouth and Dartmoor
After our beach body toasting, we popped into the nearby Dartmouth in search of food, following the satnav blindly along the windiest and narrowest streets this side of St Ives. Literally couldn't get the car down them (even with wing mirrors flat against car) and there was nowhere to turn round. Reversed for about a mile in shouty car before eating a fish and chip supper on a very scenic and sunny harbour front to recover.
Top Tip 7 – If you like a shiny car door, avoid the back lanes of Dartmouth
Eating food had turned the day around, to the extent that we could actually enjoy the golden sunlit drive over the Moors, where the road weaves through the sheep dotted grass, to our dark skies, Dartmoor YHA. The hostel was an old farmhouse set in the wilds. As we arrived, we passed a man lugging an enormous telescope over his shoulder, so we knew we were in the right place. Hadn't seen any wild ponies on the way in, but did spot 3 bonus alpacas out of our bedroom window.
Waited for night to fall, but hot on its heels were the Dartmoor clouds which took the stars with them. The binoculars stayed in the bag.
Dartmoor with kids day 4 - All creatures great and small - horse day
Dartmoor ponies - a Devon holidays must-see
As the wild horses had not come to us, our mission was to go to them. Apparently, at the nearby (not Anne) Widecombe- in -the- Moor, they could often be seen strolling across the village green. As it turned out, our mission was accomplished within first 10 minutes of the moorland drive. A party of five were grazing under a tree right next to the road. Further on we stopped on a track and headed towards another herd, but when they all looked up at us in unison, with Paddington "hard stares", the term "wild" seemed to take on a more sinister meaning and it seemed wise to pop back in the car. Might as well go to Widecombe anyway, as it was still only 10am.
Top Tip 8 –  Look out for the wild ponies of Dartmoor
Miniature Shetland ponies
At Widecombe there is parking for several coaches, which would imply some sort of huge attraction, which we totally failed to find. Had a cream tea and headed for the next horse-based item on the day's agenda – the Miniature Pony Centre. It was £32 family entry and judging by the site map, would take about 30 minutes to get round. But child 2 was borderline under 10 (in size if not in years) and could potentially ride one for £2, so off we set.
Was like a vision of mini-horse heaven, a field bathed in sunlight, where small children wandered around patting a whole herd of knee high ponies. As if this was not Gulliver-y enough, you could also stroke miniature donkeys, and then shire horse sized Mammoth American Donkeys in the next stall. The riding pony was actually real life sized, which was probably best as 10 year olds would have flattened the miniature versions.
They may have taken the heavenly theme too far in rainbow spray-painting the white one and strapping a horn to its head, but I tried not to let this detract from the overall feeling of animal magic.
Also available – fluffy bunny petting, small pony herding and a trampolines/zip wire area. It turned out not to be the one trick pony I had feared it would be. Miniature pony land –  a total winner. 
Top Tip 9 – Pet a knee-high Shetland pony at Miniature Pony Centre – a hit for the whole family
Dartmoor with kids day 5 - Travel day and Castle Drogo
Top Tip 10 – The newest castle in the land still has the builders in.
Today was a travel day. But the distance between the 2 hostels was only a 30 minute drive. A hiking plan had been vaguely in the back of my mind for this day, but lighting was forecast so that was binned.
We'd just joined the National Trust and could see Castle Drogo was nearby. The castle opens at 11. It was 10, which they had cleverly deemed opening time for the café. It was full. Four cream teas for breakfast it was then, whist reading up on Drogo.
Castle Drogo was the last castle to be built in England, in 1910, so not too much history going on for a castle. (It was younger than my house.) Upside:  very easy to keep track of the story. The owner had made a fortune, retired at 33, decided there was tenuous ancestral link to Dartmoor, dragged his family there and built medieval style castle (which has always leaked and is still covered in scaffolding) for posterity. They family then sold it almost immediately to the National Trust.
It's really more about the gardens, and you have to walk round them in a particular way to avoid views of builders and scaffolding. Its pretty empty inside and generally not quite ready still.
Moretenhampsted and Okehampton
Top Tip 11 – Minchinhampton scarecrow competition is eerily chilling
With 5 rainy hours to go before check in at next hostel, we pinned our hopes on an afternoon of shops and cafes at Okehampton. We were hoping it was going to be an improvement on Moretenhampsted which we had noticed on our drive through the previous evening had something of a Wicker Man feel to it, peppered as it was with 38 entrants to a scarecrow competition. Most of the creators had opted for a Hallowe'en/ bondage theme as far as we could make out. No pedestrians were out and about in the lashing gale, but the roadsides were peopled with straw men or women (sometimes just eerie shop dummies) wearing rubber and bleeding from the eyes. Boys requested we drive on.
Okehampon was less terrifying but underwhelming. There was cinema but we had not booked and the next and only screening (of Tory Story 4) was full. Thunder was forecast.  It was still hours til check in at the next YHA and a 30 minute drive to Bude or Exeter. Exeter won. Scraped the car in the car park and looked at the cathedral (but too tight to pay the £7 entry) before heading back to Okehamptonland.
Top Tip 12 – Try your hand at canoeing or rock climbing at Okehampton YHA  activity centre
Checked in to the former railway station and current activity centre, YHA Okehampton, where beardy Welsh millennials and other active looking types roamed the corridors. Child 2 was excited to find a pool table and to be booked on to a rock climbing session the next day. Not child 1's cup of tea. The pony trekking session, which would have been his activity of choice, was on Friday when we would be back home.
Dartmoor with kids day 6 - Activity Day
When booking the climbing session the helpful YHA man had said that they couldn't take child 2 from the hostel, but that we had to make our own way to Meldon Quarry (he gave us printed directions) where we would meet the rest of the climbers who were participating in an activity medley. 
We got up at 7, fought the hoards in the YHA kitchen for breakfast and were on the road by 8:50. Arrived 20 minutes early. Bit concerned when there was no evidence of any people 40 minutes later. Fortunately, despite the remote location, I just about had enough phone signal to call the activity centre. Apparently, and contrary to all instructions actually given, we should have met at the centre and followed the YHA minibus to a quarry on the other side of Okehampton. That bus was still waiting for us at the YHA.
The lady was very nice about it and agreed to send the instructor out to collect us. Turned out the instructor came with the whole van load of people who should have started climbing and hour ago in the back
Top Tip 13 – Follow the activity van from the hostel
We tailed the van, sheepishy (felt fitting on the moors), to the real location and followed the group, who smiled at us thinly, through the field to the rock face. While they climbed, the remaining 3 of us roamed the moors, climbed a tor, frightened some blue sheep and made sure we were back on time. Got the impression that the scheduled 3 hours for this activity may have been a bit on the long side as, by the time we returned, the group had climbed the same face about 15 times, and to make it more of a challenge had done so carrying ping pong balls, with one leg, backwards and blindfolded. And various combinations of the above.
After the morning's strenuous activities, the planned afternoon trip to Lydford Gorge was not getting the family very excited. We pointed out that as the walk was only a mile and a half, it was just like walking to school and back. The children reluctantly agreed, but only having secured a starting-line pasty and half-time cream tea concessions.
It was a pretty woodland walk for the first half, but takes a surprisingly adventurous turn to the dark side in the second. The path became pure rock, with foot holds half-carved into it and with only a small slippy wire/rail to cling to, as you scale the side of the gorge overhanging the Devil's Cauldron itself. It was generally agreed that only children featured documentaries endure walks to school of this nature. Am surprised the old and young make it back to the café alive.
Top Tip 14 – The Lydford Gorge path is a slippy as they say
Dartmoor with kids day 7 - Ponies and prisons
Because we hadn't fitted quite enough activities into our 6 day holiday, we'd found a stables and booked a different kind of Dartmoor ponies activity, horse riding, for the last day for child 1. Overnight, it had crossed our minds that Dartmoor was famous for its prison. Google-mapped it to find it was a 17 minute drive from the stables. Was it still  in use? Were you allowed a drive by? We had to take a look. As we drew closer, we could see there was a prison museum opposite, behind an incongruously colourful array of garden gnomes and hedgehogs. We paid the £12 family entry and were generally entertained by stories of escapees, Kray connections, home-made tattoo kits and the confiscated weapon display.  They had pencilled a black eye onto the prisoner (shop dummy) to make it more realistic. 
Top Tip 15 – Check out the cheery prisoner made gnomes (and chilling confiscated weapon collection) at the Dartmoor Prison Museum
There is an easy to miss downstairs area by way of a slotted plastic curtain, which looks like you are going into a butchers/body disposal acid bath area from the Sopranos. No photos are allowed, mainly because it is run by prisoners (who also make the colourful ornaments in their workshops, which explained the display outside).
Interesting  prison facts: The prison, built in 1815,  came into its own in 1850 when Australia stopped taking our convicts. Due to its remote location and harsh regime it housed the most dangerous Victorian criminals. But because it is a listed building, and the Council refused to give it planning permission to upgrade its security in 2001, it has recently been downgraded and only houses category C and D prisoners these days. Were sad to learn that is not the prison from Porridge.
You are allowed to pop down the road to photograph the prison itself as long as there are no people in the shot, or they will confiscate your film (if you are from the 1980's, which presumably is when the sign was written).
Horseriding Dartmooor Ponies
Back on the straight (no) and narrow (yes) road, to Cholwell Riding stables,  the boys got to trek straight out on to the moors for an hour for £25 (cash only, default Dartmoor payment plan). 
Top Tip 16 – Step back in time and ride the moors on horseback
Long drive home to find that the camping equipment/bedding which had been bone dry (for once) when loaded (clearly not very well) on to the roof rack 4 days previously, was weighted down by about 4 tonnes of rainwater.
Dartmoor with kids - Lessons Learned
Bring a suitcase full of cash.
They are not lying when they say the path is steep and slippy at Lydford Gorge.
Ditch the satnav in Dartmouth.
Blackpool Sands is nothing like Blackpool. Must check out more beaches on this coast!
Dartmoor with kids holidays - In summary
So a theme-free prison, beach, castle, hiking, waterfall, horse, camping, funfair holiday this year. Dartmoor, more than just a moor.
For an exclusive downloadable pdf summary of these Dartmoor with kids activities and tips  – click to subscribe to Holiday from Hels here!
Pin this Dartmoor with kids post: